Autumn 2016
SCO Supreme Financial Control Institutions Meet in Astana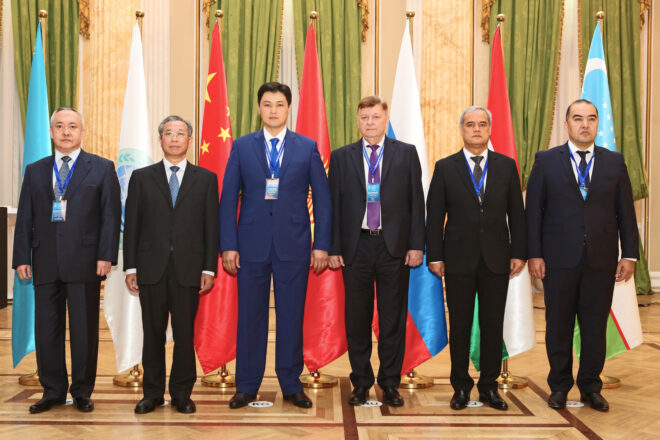 The Supreme Financial Control (Audit) Institutions of the Shanghai Cooperation Organization (SCO) member states held their third meeting May 27, 2016, in Astana (the Republic of Kazakhstan).
Both heads and representatives of the People's Republic of China, the Kyrgyz Republic, the Republic of Kazakhstan, the Russian Federation, the Republic of Tajikistan and the Republic of Uzbekistan took part in the meeting.
Mr. Erlan Idrissov, Minister of Foreign Affairs of the Republic of Kazakhstan, welcomed participants at the opening of the event, where attendees discussed issues including increased public audit efficiency in light of economically unstable conditions and global risks; relevant issues in the sphere of public financial control (audit); and perspectives of cooperation.
Chairman of the Accounts Committee, Mr. Kozy-Korpesh Janburchin, also spoke to the audience, emphasizing the transition to public audits being conducted from 2016—this in accordance with the order of the President of the Republic of Kazakhstan, Nursultan Nazarbayev. The primary objectives of this transition are to reveal financial violations and identify the causes and means of prevention.
"In conditions of existing economic situations and limited resources, public audit bodies should promote, to the utmost, increasing the efficient use of public funds. Integrating efforts of supreme public audit and financial control institutions of our countries is one of the most crucial directions of the SCO activity," Janburchin said.
The Chairman also noted that interaction within the SCO promotes capacity building and professional growth through conducting audit activities; knowledge and experience sharing; developing efficient ways to respond to new challenges; and enhancing public audits.
At the end of the meeting, the Joint Statement, 2016-2017 Action Plan and meeting minutes were adopted.
The Joint Statement declares that meeting participants intend to promote and enhance interaction, collaboration and further enhance knowledge sharing through conducting workshops, conferences and other activities on the most topical public audit issues. In the October 2016 seminar in Astana, the Action plan calls for SAIs of SCO member states to participate in the seminar "Experience of SAIs of member states, observer states and dialogue partners of the SCO in the implementation of certification of public auditors."
The next SCO meeting of the Supreme Financial Control (Audit) Institutions of the SCO member-states will be held in the Kyrgyz Republic in 2018. For more information, contact the SAI of Kazakhstan via e-mail at int.rel@esep.gov.kz or visit the SAI of Kazakhstan website at www.esep.kz.