Autumn 2016
Belarus Hosts Heads of SAI Council in Minsk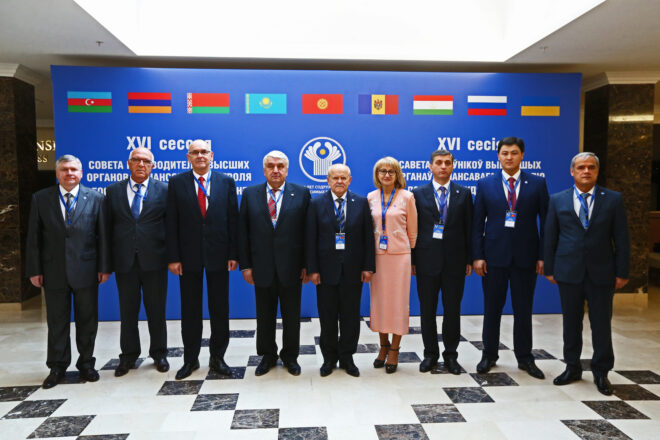 Minsk (the Republic of Belarus) hosted the XVI Council of Heads of Supreme Audit Institutions (SAIs) of the Commonwealth of Independent States (the Council) June 7-8, 2016.
The President of the Republic of Belarus, Alexander Lukashenko, along with the Chairman of the Executive Committee, Executive Secretary of the Commonwealth of Independent States, Sergei Lebedev, greeted attendees of the XVI session that included SAI representatives from the Republics of Azerbaijan, Armenia, Belarus, Kazakhstan, Kyrgyz, Moldova, the Russian Federation and the Republic of Tajikistan. The delegation from the SAI of the Slovak Republic also participated in the event as a guest.
Leonid Anfimov, Head of the SAI of the Republic of Belarus, opened the conference, which focused on relevant issues on the SAI role of ensuring economic security. The heads of participating delegations shared progressive experiences and achievements in the realm of financial control, particularly from a national legislative view.
Session participants agreed on the value of increasing transparency and accountability; ensuring state property and funds are legitimately and effectively used; performing expert, analytical activities (audit); protecting national interests through economic and social security risk identification; and contributing to enhanced SAI interaction are critical.
Lukashenko met with the heads of delegations, and, during this meeting, he expressed confidence that audit institutions can play a key role in the development of the Commonwealth of Independent States and in the harmonization of relations among the various countries.
"Only tough state control over financial flows and strict observation of legal regulations in this sector can guarantee productive development," he emphasized.
The conference ended with the signing of final documents, including the:
Decision of the XVI Session of the Council
Council's Work Plan for the Period Between the XVI and XVII Sessions
Resolution, which defines the commitment to mutual understanding, trust, friendship and cooperation.
The XVII Session of the Council will be held in Baku (the Republic of Azerbaijan) in September 2017.