Autumn 2016
SAIs a Necessity in Turbulent Times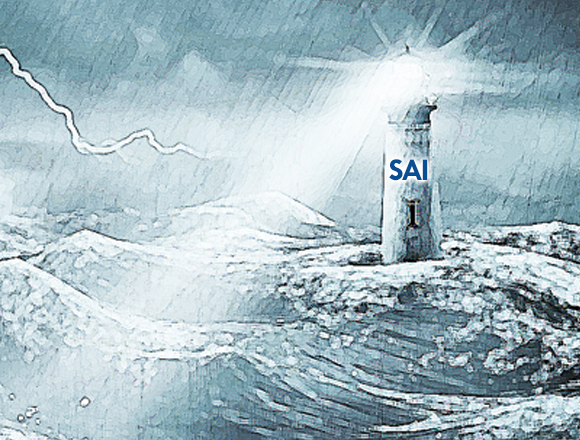 by D. A. Davlatzoda, Chairman of the Accounts Chamber, Republic of Tajikistan
Throughout the global financial crisis over the past few years, social and political instability has amplified the level of uncertainty associated with socio-economic processes. This uncertainty has led to a severe negative impact, particularly on emerging and transitioning nations, including Tajikistan.
Tajikistan's economy, like that of many developing countries, remains vulnerable to international financial and economic changes.
The implementation of radical market reforms, along with superfluous decisions, has resulted in serious structural disorder. With few exceptions, developing states have seen the liquidation of the manufacturing industry and preservation of limited mineral and agricultural resources. This has created an imbalance characterized by a reduction in exports as importation steadily rises.
Prior to 2000, Tajikistan export volumes exceeded import volumes by 16.2%. However, in recent years, the excess of imports has reached a value of 4.3-4.4 times greater that of exports, representing a considerable negative balance.
Concurrently, Tajikistan's socio-economic crisis can be contributed to a high degree of economic dependence from other countries, remittance flows from migrant workers, monetary exchange rate fluctuations and a poorly managed credit system.
To overcome the aforementioned negative effects, the role of public institutions must be more prevalent in the management of countries, nationally and regionally. The key task is to ensure the efficient use of allocated budgetary resources supporting the (1) banking sector and (2) domestic assistance provided to social programs.
The efficient management of funds must be ensured for any form of state support for business, including budget, preferences and tax refunds. Finding additional resources, as well as redistributing the funds already earmarked indicates a clear need for audit institutions to be involved in assessing fund and program effectiveness and the economic and social impact these funds and programs (and any potential changes) may have.
Initially, strategic state management contains a development assessment component, which seeks to merge strategy compatibility with proposed objectives and available resources. This component should also include the establishment and incorporation of state audits, which seem to be a new occurrence in public administration systems, especially in Tajikistan.
Developing state audits as a part of Tajikistan's strategic planning and management process would benefit the nation, particularly during periods of crises, as doing so would combine external financial control and review by specialized government bodies that can monitor budget implementation; economic policy, social programs and environmental projects examination; and the incorporation of various regional elements, such as goal-setting and problem-solving mechanisms currently in place associated with strategic territorial development.
At the same time, transparency is critical, particularly in conditions characterized by a high amount of uncertainty and negative expectations. We have seen many countries rapidly develop and adopt anti-crisis measures. Recipients of state support often become enterprises, greatly complicating the task of ensuring openness and making it imperative to develop effective mechanisms for cooperation and coordination between government and parliament. State audits address this issue by providing independent observations and evaluations and helping to remove various bureaucratic hurdles and legal inconsistencies that may hinder objective program research and examination.
Qualified, unbiased and open information is crucial, thus making the role of SAIs even more important than ever before. Ensuring citizens and investors receive such relevant and impartial information on the state of public finances is essential to any nation, but perhaps more so to countries that are developing, transitioning or facing a crisis. Controlling the implementation of measures, including those put in place in times of hardship, includes monitoring, evaluating and providing useful recommendations on the legality, effectiveness and use of state support funds. Incorporating SAI involvement is the key, not only for today but for the future of the country.