Autumn 2018
SAO Latvia Celebrates 95 Years of Service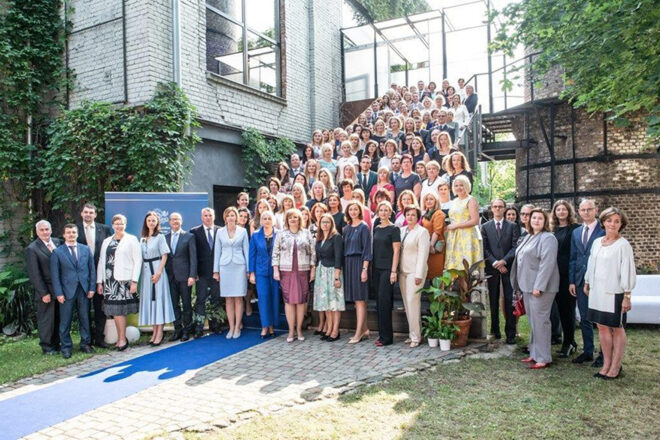 The State Audit Office (SAO) of the Republic of Latvia marked its 95th anniversary in August 2018.
Celebrations included a conference focusing on overcoming personal and professional challenges everyone faces as they attempt to reach bigger goals.
"Over the past 95 years, we have been able to adapt to the changing world and are strong enough to monitor the modern, information technology-based public administration we now have," noted Elita Krumina, Latvia's Auditor General, in her address to participants.
"Naturally, being an ambitious, firm and fearless state audit institution, we are not always liked. But, trust is far more important. We will continue asking tough questions, as doing so leads to better public administration decisions. This builds public trust," she added.
Ms. Krumina went on to share her appreciation to staff, international and national partners for "working side by side to reach the goals of the SAO of Latvia."
SAO Latvia's History
The SAO of Latvia is partly rooted in Imperial Russia. Immediately after founding the Latvian State a hundred years ago, it was clear that a different form of monitoring state accounts was required. On August 16, 1923, the SAO Law came into force, denoting the beginning of an independent Supreme Audit Institution (SAI).
Since then, the auditors quickly developed a reputation as rigorous guardians of public funds. The findings and conclusions were popular news in the media.
In late 1993, Latvia's new parliament renewed both the SAO Law and the constitutionally independent SAI initially established 95 years ago.
The core task has remained the same—to ensure state and municipal budget and property operations are regular, compliant and effective, while preventing inaccuracies and negligence to the extent possible, prior to translating into actions or pursuing already committed ones.
For more information visit the SAO of Latvia website at http://www.lrvk.gov.lv/en/.