News in Brief
SAI Peru Assists SAI Honduras with Strategic Way Forward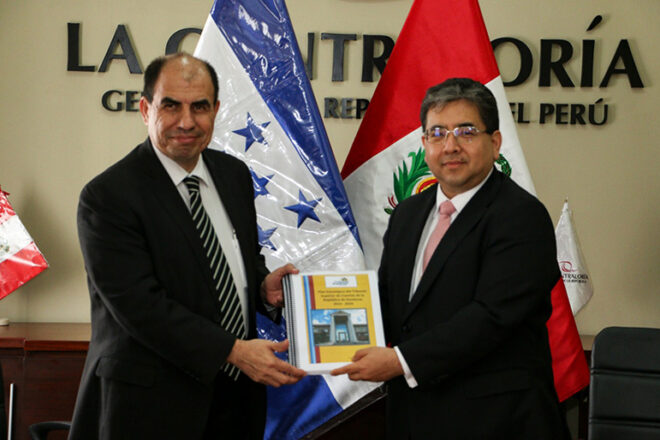 During a special ceremony held at Peru's Supreme Audit Institution (SAI) headquarters, Peru's Comptroller General, Mr. Nelson Shack Yalta, delivered the Institutional Strategic Plan (2018-2023), Multi-Annual Audit Plan and Action Plan to the President of SAI Honduras, Mr. Roy Pineda Castro, as part of a Memorandum of Understanding signed in February 2018.
The technical assistance was developed during three visits to SAI Honduras and video conferences involving work teams from both SAIs.
The first visit, held in August 2018, focused on developing methodology and schedules. The Peruvian team conducted a "Strengths, Weaknesses, Opportunities and Threats (SWOT)" analysis and helped define SAI Honduras' mission, vision and values—the foundation to developing the strategic plan.
In October 2018, SAI Peru met with various stakeholders to address administrative, logistic and safety issues. They also engaged with high-level authorities and conducted working meetings to clarify strategic objectives, indicators, milestones and goals.
The November 2018 visit entailed presenting the deliverables to senior management and generating awareness about the newly devised documentation and processes to key stakeholders.
This best practices example highlights joint efforts that result in strengthening capacity at the organizational level that can have positive impacts, through replication, regionally.