Inside INTOSAI
OLACEFS Commission Enhances the Work of SAIs through Technology and Innovation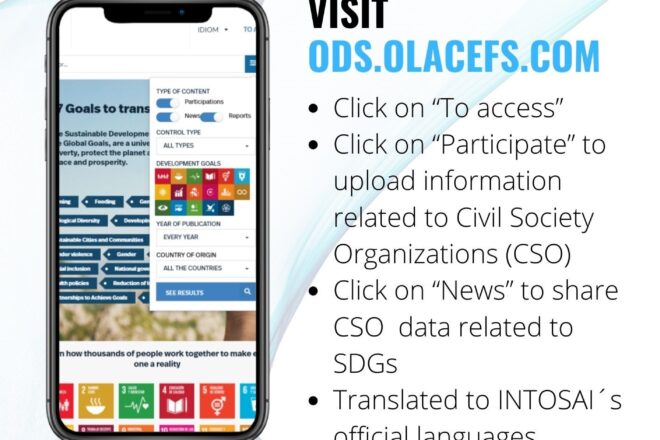 During the pandemic, the Commission on Information Technologies and Communications (CTIC) of the Organization of Latin American and Caribbean Supreme Audit Institutions (OLACEFS) has helped the region's Supreme Audit Institutions (SAIs) carry out their work in various ways.
Toolbox for Remote Work
To help the region's SAIs continue to hold events and perform tasks remotely, CTIC researched and compiled a list of free or low-cost applications that facilitate team work. This list is available on the OLACEFS website.
Website on SDGs
CTIC set up a website to share information on SAIs' reports on the United Nations (UN) Sustainable Development Goals (SDGs), news on the UN 2030 Agenda, and citizen participation. To raise stakeholders' awareness of this important collaborative resource, CTIC conducted workshops in 2020 that drew more than 2,000 participants from Latin America. The website has received 12,350 visits from 43 countries, mainly from the Americas and Europe, but also from Bangladesh, New Zealand, and Pakistan. A video, available in Spanish on Youtube, shows how SAIs may benefit from the site's wide array of features.
Online Surveys
CTIC helped OLACEFS commissions and working groups conduct online surveys of SAIs in the region on topics such as SDG 5 (Gender Equality), governance, and the impact of remote work during the pandemic.
Consolidation of Virtual Platforms
Since the outbreak of the pandemic, OLACEFS has facilitated the remote work of commissions, committees, and working groups. However, the variety of virtual platforms has made it more difficult to organize webinars and virtual meetings. CTIC therefore installed a single open platform in 2021 for OLACEFS users.
Big data and AI
The focus of CTIC's 2021 activities is on big data and artificial intelligence (AI), and the commission invited interested SAIs to join a Big Data and AI Task Force to develop an open data website for the region. The website—datos.olacefs.com—will be available at the beginning of 2022 and enable SAIs and stakeholders to access and share standardized data. Audit reports issued by SAIs will also be available on the website.
CTIC is grateful to all those who make its work possible. For more information about CTIC's activities, please contact its chairman, Dr. Francisco Javier Fernandez, at jfernandez@agn.gov.ar or ctic@agn.gov.ar.