News in Brief
German SAI Publishes Spring Report, 50+ Audit Findings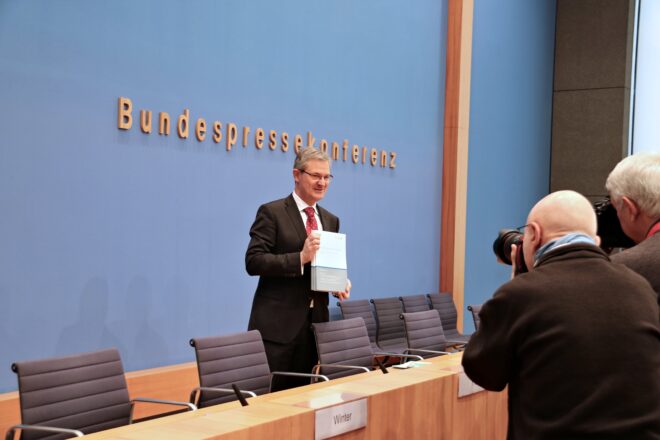 The German Supreme Audit Institution (SAI) published its spring report in April 2017, which complements the major annual report published each fall. This year's spring report encompasses more than 50 audit findings from various branches of federal government departments, such as taxes, environmental issues, defense, road works, railway construction and information technology.
The report includes some controversial cases where the audited bodies have not accepted the SAI's findings or recommendations. These will be deliberated upon in Parliament prior to summer recess, thus providing a timely basis to grant discharge to the Government.
"This reporting format helps address undesirable developments and inefficiencies in the federal public sector more rapidly," said Mr. Kay Scheller, President of the German SAI.
The German SAI noted specific findings where challenges existed, particularly in the fields of taxes, environmental protection and defense.
One issue in the field of taxes is the cross-border sale of new vehicles, where systematic Value Added Tax (VAT) fraud occurs. Falsifying records of new vehicle cross-border sales to private buyers (when none had been made) led to a systematic circumvention of the applicable internal market control procedure. In one fraud case, tax damage exceeded €3 million.
In the field of environmental protection, the sponsoring government department has, thus far, inadequately supervised the construction of a final repository for low- and medium-level radioactive waste, although the project is unique and of high political and financial importance. This is one reason the final repository is now expected to be completed nine years later than scheduled (2022) and to cost nearly twice as much as originally estimated (current estimate: €3.4 billion). Though, in the future, a new company owned by the Federal Government will be responsible for the final repository, accountability still lies with the Ministry for Environment. The SAI urges that the new company's rights and duties be clearly stipulated by contract and construction progress be closely supervised.
Regarding Defense, the SAI found that the armed forces set up career centers without performing a reliable pre-study on needs and are planning to reform the centers, once again, without sound analytical preparation. The centers' tasks include soldier recruitment, which is a central strategic function. With the Defense Ministry planning to increase soldiers to nearly 200,000 (approximately 8 percent) by 2024, the Armed Forces will need well-functioning career centers. This requires a sound organizational study, and the Ministry should discontinue the restructuring process until an assessment of what the centers are to achieve, along with how much and what kind of staff they will need for that purpose. Failing this, the restructuring process may become an impediment to accomplishing the Armed Forces strategic human resources targets.
Case examples in the field of road construction highlight weaknesses in the current system for planning, building and operating federal long-distance roads. While the Federal Government has overall responsibility, the German states are in charge of road plans, construction and operations, and they often act more in self-interest rather than in the interest of a consistent, national long-distance road strategy. Issues addressed include the costs to rehabilitate state roads, maintain bridges, inspect roads, and construct bicycle lanes. In these cases, the Federal Government was charged costs to be borne by the states, and Federal Government claims for refunds are pending.
These cases underline the importance of centralizing all responsibilities associated with the management of long-distance roads at the federal government level to ensure efficient and targeted use of budget funds and to plan and build federal long-distance roads across inner-German state boundaries.
Mr. Scheller reiterated his opinion on the matter, emphasizing that the federal government's current plans to reorganize the construction and management of long-distance roads present a number of risks, some of them grave. There is the risk that effectively centralizing responsibilities at the federal government level may prove futile due to a parliamentary loss of control, inadequate steering for the ministry and German SAI loss of audit access.
While the restructuring exercise is to exclude a privatization of motorways, draft legislation is rather ambiguous, thus leaving room for various privatization options. This implies considerable risks. Private sector partial networks may emerge that are outside the direct control of federal administration and parliament. Motorway quality, service levels and funding would no longer be subject to parliamentary oversight. It is not yet clear whether the company to be established is to have borrowing powers. If so, road construction would become more costly, because the federal government can generally borrow on more favorable terms than private sector entities. There would also be the risk of shifting financial operations to off-budget entities.
Mr. Scheller stressed, "For the sake of the common good and to ensure the provision of vital public services, the government should remain in control of the motorways. Therefore, the draft legislation should be enhanced to close potential loopholes for privatization."