EUROSAI
EUROSAI TF on Municipality Audit Holds Inaugural Meeting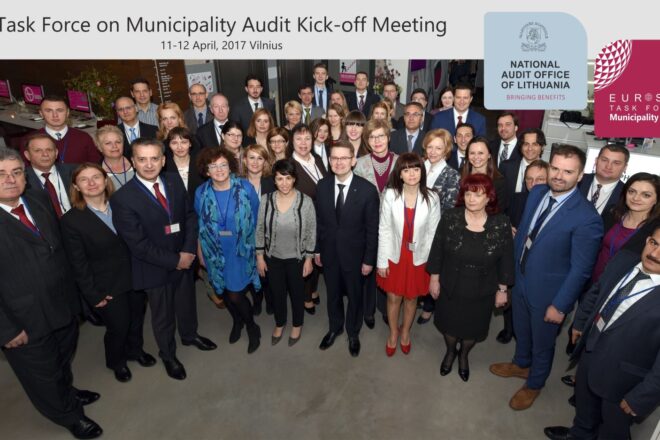 The European Organization of Supreme Audit Institutions Task Force on Municipality Audit (EUROSAI TFMA) had its kick-off meeting April 11-12, 2017, in Vilnius, Lithuania. Forty-nine representatives from SAIs representing 25 EUROSAI countries assembled to build the foundation for task force future work.
During the inaugural meeting, the Working Program 2017-2020 was discussed and approved, which encompassed planning activities, sharing responsibilities, establishing deadlines and defining strategic goals, which are:
Exchanging the best practice and experience to reach audit results that have a substantial impact on improving public financial management;
Making the external municipal auditing system more efficient; and
Encouraging cooperative audits.
Each task force member contributed to identifying working principles during a special session of the kick-off meeting. Being resourceful and inventive; fully engaged and involved; showing respect for personal and team considerations; and striving for novelty and innovation were deemed key values to fluently and efficiently contribute to strategic goal achievement.
TFMA members were also tasked to indicate features of municipality audit that are different from other audit types, as well as how task force activities can, and will, add value. Four major aspects were identified—complexity, specificity, openness and accountability, and use of data–all of which make municipality audits unique.
This uniqueness creates space, providing endless possibilities for the TFMA to add value for auditors, SAIs and the auditing community as a whole. Complexity is determined by a large number of municipalities in every country, a wide range of services delivered to citizens and numerous municipal functions, which often overlap with governmental functions. Specificity is the vast amount of municipality audit system units, such as SAIs, external, internal and private auditors, along with dissimilarities of these units, including various audit mandates, goals and functions. Openness refers to the desire (and ability) to share significant information and deal with problems integrally at all levels. Accountability and data use is the need to create a culture of accountability and use data from local accounts and financial statements, which can be encouraged by municipality audits.
The National Audit Office (NAO) of Lithuania's initiative to establish the EUROSAI TFMA was approved by the EUROSAI Governing Board in Luxembourg in June 2016. The approval, based on NAO data revealing the importance of the municipality audit sphere and the necessity to focus more attention on multi-level policy actions and local data, creates pathways from the local level to meeting global goals. Local governments play crucial roles in creating citizen well-being, and the EUROSAI TFMA seeks to transform external municipal auditing systems into more efficient ones. The NAO of Lithuania chairs the TFMA and strongly believes this cooperation will bring benefits to SAIs in planning and conducting local government audits, as well as providing relevant improvements to municipality audit systems in EUROSAI countries.
The TFMA member, SAI of Latvia, will host a seminar on Municipality Audit October 5-6, 2017, in Riga, Latvia, to address: added value from SAI audits conducted in local municipalities and usefulness and efficiency criteria when using local municipality budgets.
For more information on the EUROSAI TFMA, visit www.vkontrole.lt/tf/ or contact eurosai.tfma@vkontrole.lt.