News in Brief
Egypt's ASA Participates in COMESA Events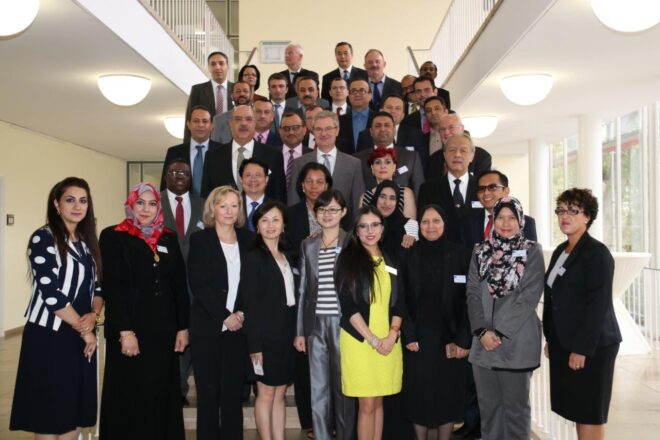 Egypt's Accountability State Authority (ASA) participated in several Common Market for Eastern and Southern Africa (COMESA) events, including the 36th COMESA Committee meeting on Administration and Budgetary matters held in Lusaka, Zambia. Several key recommendations were issued, including the 2017 COMESA court of justice schedule for policy adoption; mobilization of additional resources to support training activities; limited postal services and new recruitments until organizational framework audit report issuance; and guidance on general secretariat draft budget submissions.
The ASA also participated in the 18th Audit and Budgetary Subcommittee Meeting where the necessity to endorse procedures related to the regional integration support program was discussed and recommended.
ASA HEADS WORKING GROUP ON FIGHT AGAINST CORRUPTION AND MONEY LAUNDERING
Counselor Hesham Badawy, Egypt's Accountability State Authority (ASA) President and Chairman of the Working Group on the Fight Against Corruption and Money Laundering (WGFACML) led the group's 10th meeting held late last year in Bonn, Germany. ISSAI 5700, "Guideline for the Audit of Corruption Prevention in Government Agencies," and INTOSAI GOV 9160, "Enhancing Good Governance for Public Assets-Guiding Principles for Implementation," were approved at INCOSAI XXII in Abu Dhabi, United Arab Emirates.
Other significant events included promoting cooperation with the INTOSAI Development Initiative and SAI professionalism and capacity building. Badawy's speech to attendees focused on Egypt's efforts in battling corruption and money laundering and noted that efforts have led to enhanced integrity and transparency, reflecting the true will of the Egyptian people.
ASA HOSTS EVENT FOR PERFORMANCE AUDITS ON HUMAN RESOURCE DEVELOPMENT PROGRAMS
In accordance with the Arab Organization of Supreme Audit Institutions (ARABOSAI) training and scientific research working plan, the ASA of Egypt hosted a meeting dedicated to Performance Audit on Human Resources (HR) Development Programs in Cairo, Egypt. The conference offered valuable exchanges on several topics to include performance audits in light of INTOSAI standards; strategic planning, modern approaches, theories and implementation approaches for HR development; and the role of Supreme Audit Institutions in HR performance auditing and development.