Autumn 2018
We Have to Be a Beacon: Jamaica's AG Reflects on SAI's SDG Journey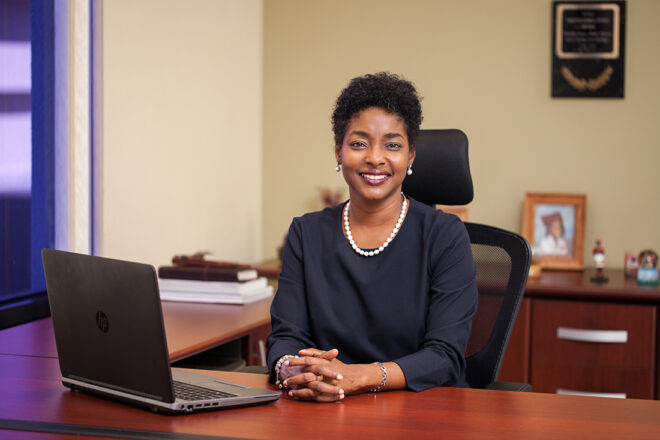 by Pamela Monroe-Ellis, Auditor General of Jamaica, and General Secretary for the Caribbean Organization of Supreme Audit Institutions (CAROSAI)
The development of the Sustainable Development Goals (SDGs), in my view, is a reflection of the proclivity of the human spirit to forge towards the betterment of the human race. I am an early supporter of the SDGs—embracing the targets' ambitiousness, as well as the all-inclusive approach and framework surrounding SDG development and implementation. Certainly, as Jamaica's Auditor General, I had a very clear understanding of my contribution to national SDG achievement.
In fact, in 2010, Jamaica developed and began implementing its own National Development Plan (NDP), "Vision 2030." This plan, along with a medium-term framework and sectoral policies, is 91 percent aligned with the SDGs. The Planning Institute of Jamaica introduced the NDP to Jamaica's Supreme Audit Institution (SAI) early on in the process. Consequently, our audit program—particularly for performance audit—has been influenced by the goals identified in Jamaica's NDP.
Naturally, I, and SAI Jamaica team members, made the decision in 2015 to also consider the SDGs in determining audit subjects and candidates. It came as no surprise, and we were quite pleased, that the International Organization of Supreme Audit Institutions (INTOSAI) and the United Nations (UN) identified SAIs as major partners in monitoring SDGs globally.
I feel a country's successful implementation of SDGs is predicated on the soundness of its governance arrangements and public financial management system. I make that point to emphasize my approach to SAI Jamaica's contribution to achieving Jamaica's NDP and SDGs considers all audit types (financial, compliance and other audit products). I believe these audits are particularly key for developing countries, which face immense resource challenges, both human and financial.
My early consideration was that a SAI's role is not just limited to conducting audits to determine the level of preparedness, pace of implementation (or lack thereof), but also to ensure that SAI Jamaica is institutionally strengthened to deliver quality service to government to further its mandate. Good governance arrangements in SAI Jamaica were seen as a prerequisite to support transformation. In that vein, an Executive Committee (EC) I chaired was established to define and monitor the SAI's strategic direction. The EC invested significant energy to capture the principles of Jamaica's "Vision 2030" and develop our SAI's strategic business plan to ensure that it aptly reflects SAI Jamaica's vision—a better country through effective audit scrutiny.
We used International Standards of Supreme Audit Institutions (ISSAI) 12, "Value and Benefit of SAIs," as guidance in developing our Strategic Business Plan's (SBP) five strategic objectives. SAI Jamaica's SBP, a living document, has undergone many iterations, and the journey has been a good one, as it helped us (1) gain a better understanding of the evolving environment in which we operate and (2) focus our minds on the impact we want to make and the means to achieve that impact.
Further, while we worked on identifying objectives and associated risks, we took immediate action to address gaps. We turned the spotlight on ourselves, recognizing that to be the bastion of transparency and accountability, our internal processes must meet the highest standard—we have to be a beacon.
In that regard, we established committees to develop required policies based on ISSAIs, including a Policy Committee, which bears the responsibility to review all draft policies to ensure standards are met. This is reflected in our SBP 2018-2021, and, of the 5 objectives delineated, three are internally focused: internal control and procedures; ethics and core values; and resource management.
I believe that SAI Jamaica processes improved during our business plan development—corrective action commenced while the plan was under construction and SAI Jamaica undertook a SAI Performance Management Framework (PMF) review mid-stream during our strategic plan implementation.
The SAI PMF results, which were made public, were used to fine tune our 2018-2021 plan, and, for the first time, SAI Jamaica prepared a three-year rolling Strategic Audit Plan (SAP), which benefited from stakeholder engagement.
SAP 2018-2021 identifies crosscutting performance audit as a key feature in monitoring Jamaica's NDP and SDG implementation and declares our intent to assess the government's effectiveness in implementing the 17 SDGs with our audits spanning issues of a social, economic and environmental nature.
SAI Jamaica also published its "Thematic Approach to the Development of Audit Plan (TADAP) 2017-2019" in January 2017. Both the TADAP and the SAP explicitly reference Jamaica's NDP and the SDGs as integral factors in establishing focal areas.
SAI Jamaica also published its first crosscutting audit in 2017, "Government of Jamaica Progress Towards Vision 2030 NDP/SDG 7–Diversification of Energy Supply and Affordable and Clean Energy." The audit highlighted the need for (1) horizontal and vertical policy coherence, (2) better cohesion among stakeholders and (3) communicating lines of accountability, enabling conditions to capitalize on synergies among SDGs.
These findings were reinforced by subsequent audits of "Jamaica's Preparedness for Implementation of the SDGs" and "Jamaica's Framework for Fighting Corruption," scheduled for completion in 2018.
These audits will:
Motivate an introspection of our own preparedness and contribution towards improvement in public financial management and public body accountability;
Encourage an internal policy review to ensure policy consistency; and
Engender a review of our internal practices to ensure alignment with SDG 16, "Promoting Peace and Justice," which requires an integrated approach crucial for progress across the multiple goals.
Through our SDG audits, we can identify and raise awareness of the risks to achieving the SDGs—risks that authorities may be unaware of (resource/capacity/ funding constraints)—and, thus, do our part in SDG development, which seek to leave no one behind.
Members of the Caribbean Organization of Supreme Audit Institutions (CAROSAI) encounter similar socioeconomic issues. No doubt, there will be common challenges among Caribbean countries to successfully achieve the SDGs. That, however, provides the opportunity for CAROSAI members to collaborate and leverage the experience of other SAIs.
The value and benefit of SAIs are easily identified by the acknowledged role to monitor national implementation of programs aimed at SDG realization, and SAIs must use this opportunity to strengthen internal processes to provide value-added service to its citizens.
We should always be mindful that our responsibility is not only to monitor implementation, but, just as important, to ensure that, as SAIs, we work toward achieving SDG 16.
Certainly, SAI Jamaica enthusiastically embraces its role in helping make Jamaica a better country through more effective audit scrutiny.