Inside INTOSAI
The FIPP: Who We Are, What We Do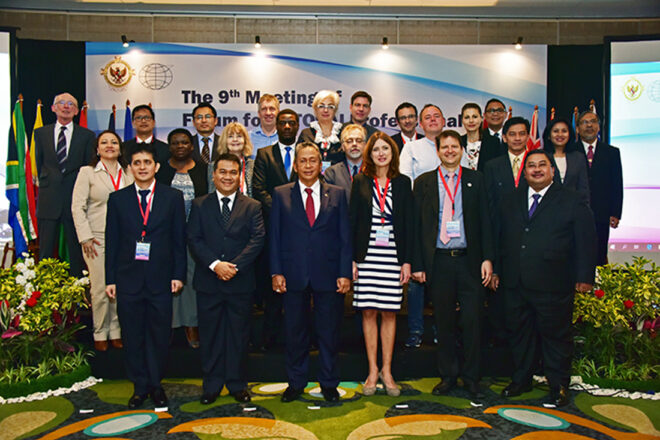 In 2014, the International Organization of Supreme Audit Institutions (INTOSAI) established a temporary Common Forum for professional standards. At the 2016 INTOSAI Congress in Abu Dhabi, the forum was confirmed as a permanent body and designated the Forum for INTOSAI Professional Pronouncements (FIPP).
The FIPP—Who We Are
FIPP members are selected by the INTOSAI Goal Chairs— Professional Standards Committee (PSC), Capacity Building Committee (CBC) and Knowledge Sharing Committee (KSC). Every year, the Goal Chairs issue a call for nominations for new FIPP members.
The FIPP composition intends to mirror INTOSAI's membership in respect to regional representation, Supreme Audit Institution (SAI) models, audit types and audit/capacity development expertise. The FIPP comprises between 10 and 16 members, including the FIPP Chair, and member appointments are dependent on the relevant SAIs' commitment to permitting nominees to work for INTOSAI.
The FIPP—What We Do
Supporting professional development by ensuring INTOSAI provides clear, consistent professional pronouncements for public-sector auditing, the FIPP reviews, monitors and ensures numerous tasks to include ensuring:
International Standards of Supreme Audit Institutions (ISSAIs), as well as related principles and guidance, are developed based on a consistent set of professional standards that serve the needs of INTOSAI members;
Professional pronouncements are based on fundamental public-sector auditing principles (as defined in ISSAI 100);
Professional pronouncements contribute to accountability, effectiveness, efficiency and transparency of public-sector auditing; and
Professional pronouncements provide the basis for capacity development and facilitate knowledge sharing and verification.
The FIPP's authority and responsibilities are defined in the Due Process for the INTOSAI Framework of Professional Pronouncements (IFPP). The FIPP also addresses crosscutting issues, such as:
Responding to inquiries from those drafting ISSAIs (or other documents) for the IFPP;
Defining common INTOSAI positions on standards-related issues;
Encouraging the consideration of all perspectives (auditor, stakeholder) in the standard-setting process; and
Liaising with INTOSAI working groups and subcommittees that develop IFPP content.
The FIPP's Working Procedures
According to the FIPP's Terms of Reference, FIPP members develop the working procedures that establish the forum's decision-making process and reporting mechanism.
These procedures, important in supporting the FIPP's work, developing INTOSAI as a professional standard setter, and ensuring a more transparent, predictable process, were approved by the FIPP in August 2018 and will soon be available online.
The Process for Developing Pronouncements
The Due Process for developing pronouncements applies to (1) new pronouncements, (2) changes of substance in existing pronouncements, and (3) incorporating pronouncements issued by other organizations into the IFPP. The FIPP approves project proposals, exposure drafts and endorsement versions to be sent to INTOSAI's Governing Board for approval.
Click here to access the full Due Process document.
Current SDP Status
The Strategic Development Plan (SDP) is a general IFPP strategy and working plan that assembles all initiatives to develop, revise or withdraw professional pronouncements. The current SDP covers the period 2017-2019, and the status of the projects can be consulted here.
The PSC is migrating existing pronouncements (not due to be reviewed in the current SDP) from the previous ISSAI framework to the IFPP. This process includes editorial changes and renumbering. All drafts will be FIPP-approved prior to migration.
The FIPP's Involvement with the New SDP
Following Due Process, there was a broad consultation to the INTOSAI community and external stakeholders. Based on these inputs, along with an internal IFPP assessment and guidance from the Goal Chairs, the FIPP will prepare a proposal for the next SDP to be approved by the PSC Steering Committee and endorsed by INTOSAI's Governing Board.
The FIPP's Commitment to Standard Setting
The FIPP is committed to supporting SAI professional work by ensuring all IFPP professional pronouncements follow a quality control process that includes consistency, accountability and transparency.
The FIPP, a part of INTOSAI's efforts to improve standard setting, is still under development. The first objective under Goal One of INTOSAI's Strategic Plan 2017-2022 calls for a strong organizational framework to support INTOSAI standard setting. This includes a permanent standard-setting board (FIPP) along with technical support and independent advisory functions.
As part of its role as an INTOSAI standard-setting board, the FIPP aims to develop working procedures and a new SDP by 2022.
For more information about the FIPP and INTOSAI standard setting, visit http://www.psc-intosai.org/en_us/site-psc/fipp/.
---
KEY TERMS
FIPP: Forum for INTOSAI Professional Pronouncements—established to support professional development by ensuring INTOSAI provides a clear and consistent set of professional pronouncements for public sector auditing.
IFPP: INTOSAI Framework of Professional Pronouncements— consists of:
INTOSAI-P: INTOSAI Principles
ISSAI: International Standards of Supreme Audit Institutions
GUID: INTOSAI Guidance
SDP:Strategic Development Plan—the general strategy and working plan for IFPP development.
PSC:Professional Standards Committee—leads standard-setting efforts within INTOSAI (INTOSAI Strategic Plan Goal 1).