Autumn 2017
SAI Hungary Carries Out Successful Peer Review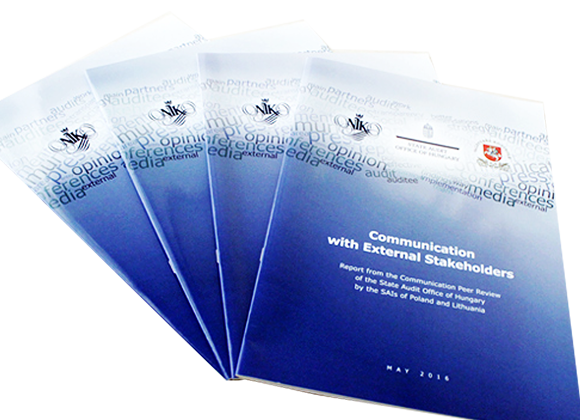 To enhance its quality-driven operations, the State Audit Office of Hungary (SAO) underwent a peer review in 2014 to evaluate the innovations and methodologies introduced from 2010 under the SAO's value preserving renewal. The SAO adopted its new communication strategy a few years ago, in which it defined its main objectives on (1) improving the utilization of SAO documents prepared for various target groups and (2) increased recognition of SAO as a transparent institution serving public interest and operating professionally. When renewing its communication and utilization activities, SAO considered International Standards of Supreme Audit Institutions (ISSAI) 12 and ISSAI 20 as guiding principles.
The international, comprehensive assessment of the institution's communication activity and transparency took place between 2014 and 2016, analyzing activities during 2010 to 2015. The peer review was performed by a group of experts from the Supreme Audit Institutions (SAIs) of Poland and Lithuania. Based on ISSAI 20, which defines the principles of transparency and accountability for SAIs, the assessment involved various SAO communication target groups. The evaluation covered communication with the general public, National Assembly, several public authorities, the press, as well as cooperation with audited organizations.
The report concluded that SAO has established a professional and efficient communication system that complies with its mission and strategy. Moreover, it aligns with SAO's new act. SAO's partner institutions, as well as the organizations affected by its activities, have confirmed that the organization fulfills its communication strategy in a way that ensures the transmission of necessary information concerning SAO and its procedures and contributes to the development of SAO's reputation as a transparent and exemplary organization.
Of particular value are the report's findings on enhancement of SAO's utilization activity, namely the recommendations regarding communication with audited organizations; active exchange of information with public authorities; widespread use of social media; and new audit report format.
In keeping with given recommendations, SAO elaborated its action plan and forwarded it to the SAIs carrying out the peer review. The document specifies, in detail, plans to further develop communication activities to better serve the use of SAO's work and social transparency in a more targeted manner. Implementing the action plan will be overseen by an independent project group within the SAO, who will continuously inform the public and its communication target groups about any progress made.
The summary of the peer review report is available here.
To learn more, visit the State Audit Office of Hungary website at https://asz.hu/en or contact international@asz.hu.