Autumn 2018
SAI Guatemala Hosts OCCEFS General Assembly in Antigua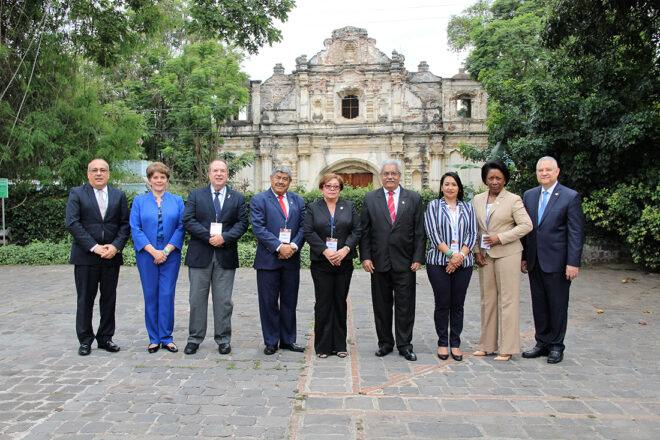 Delegates from the Supreme Audit Institutions (SAIs) of Belize, Costa Rica, the Dominican Republic, El Salvador, Guatemala, Honduras, Nicaragua, Panama and Puerto Rico, along with special guests from the National Audit Office of the Republic of China (Taiwan), met in Antigua, Guatemala, to attend the XLII Central American and Caribbean Organization of Supreme Audit Institutions (OCCEFS) General Assembly this summer.
Led by Carlos Enrique Mencos Morales, Comptroller General of Accounts of Guatemala and OCCEFS President, the assembly resulted in a series of approved documents and initiatives in several areas aimed at strengthening OCCEFS and improving member-entity work.
New organizational statutes were approved to maintain consistency with International Organization of Supreme Audit Institutions (INTOSAI) and Organization of Latin American and Caribbean Supreme Audit Institutions (OLACEFS) regulations. The new statutes respond to OCCEFS' current context, environment and strategic vision.
A cash flow regulation was also endorsed, establishing general rules to achieve efficient, effective and transparent use of OCCEFS financial resources.
The Technical Planning Commission proposed three documents: (1) Operating Regulations of the Technical Planning Commission; (2) Annual Operating Plan (AOP) Progress Report 2018-2019/Strategic Development Plan (SDP) 2017-2022; and (3) AOP 2018-2019, all of which were approved.
In the communication and image fields, regulating and positioning the website to reach target audiences, as well as facilitating and expanding audit work access, resulted in approval of the website positioning strategy and website administration regulations.
Several Capacity Building Commission proposals were also endorsed, including operating regulations designed to support OCCEFS in managing organizational and SAI sustainable development and capabilities initiatives; (2) expert regulations to govern OCCEFS Expert Database operations; and (3) the Annual Training Plan 2018-2019.
An Experience Sharing Panel was also established at the assembly to address SAI efforts toward International Standards of Supreme Audit Institutions (ISSAI) and monitoring Sustainable Development Goal (SDG) implementation.