News in Brief
NAO Malta Celebrates 20 Years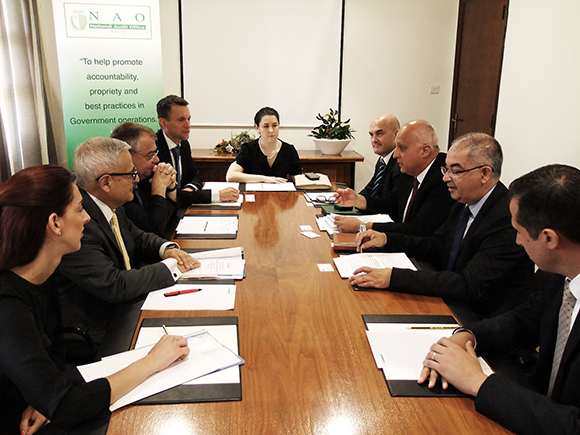 In 1997, Malta's constitution was amended to provide for the independent offices of the Auditor General (AG) and Deputy Auditor General (DAG) and the establishment of the National Audit Office of Malta (NAO). This year, the NAO commemorated its 20th anniversary as an independent audit institution, and many distinguished guests paid special visits to the NAO throughout the year.
President of the European Court of Auditors (ECA), Mr. Klaus-Heiner Lehne (pictured above with NAO Malta staff), discussed similar challenges and issues being encountered by ECA and NAO Malta. Mr. Lehne, accompanied by the Maltese Member of the ECA, Mr. Leo Brincat, also emphasized the key role audit offices play in restoring European Union (EU) citizens' trust in EU institutions.
Dr. Joseph Muscat, Malta's Prime Minister, praised the NAO's continued excellent work and extended his cooperation to Mr. Charles Deguara, NAO Auditor General (AG), Mr. Noel Camilleri, NAO Deputy Auditor General (DAG) and all NAO staff. Dr. Muscat expressed his commitment to implement NAO recommendations included in its reports and such commitment has already been translated in practice through the government's annual publication, "Governance—Action on the NAO's Annual Report."
The former Leader of the Opposition, Dr. Simon Busuttil, also had words of praise for NAO and for all the sensitive and difficult work it carries out. Dr. Busuttil noted the immense responsibility placed on NAO and the challenges it faces in maintaining, and enhancing, its status as a role model for other government entities. He also stressed the NAO's need for additional resources to carry out its constitutional function more effectively.
A special ECA/NAO joint seminar was also held to mark this important milestone in NAO's history. "Audit Follow-up in the Public Sector: Enhancing Accountability," was held at the Mediterranean Conference Center in Valletta, Malta, in September. Noteworthy guests in attendance included senior officials from across public service, including the Public Accounts Committee and the Internal Audit and Investigations Department.
Mr. Deguara opened the seminar by highlighting the importance of every national audit institution to ensure timely implementation of recommendations made in its various reports.
Mr. Brincat provided the keynote address that included an extensive overview on the ECA's role and objectives. Mr. Brincat recommended governments should encourage ministries, departments and entities to implement ECA audit report recommendations and that they more proactively adhere to EU directives in an effort to add value.
Mr. Martin Weber, Directorate of the Presidency, followed with a presentation on "Maximizing Our Contribution to Member States' Public Accountability," where he pointed out the ECA's fundamental role in promoting accountability, one of ECA's core values.
Principal Permanent Secretary, Mr. Mario Cutajar, addressed seminar participants and discussed "NAO's Report—Government's Follow-Up," focusing on analyzing the implementation status of various NAO recommendations issued in its Annual Audit Report on Public Accounts. Mr. Cutajar emphasized that this exercise duly reflected government commitment to promoting accountability and transparency across Maltese public service.
Mr. Camilleri gave an excellent review of the NAO initiative launched this year to issue a follow-up report on several audits undertaken by the Financial and Compliance, Performance, Special Audits, and Investigations sections. He closed by presenting a comprehensive analysis on recommendation implementation rates in respect to all selected follow-up audits included in this year's report.