Inside INTOSAI
INTOSAI SCEI Establishes Expert Group, Hosts Inaugural Webinar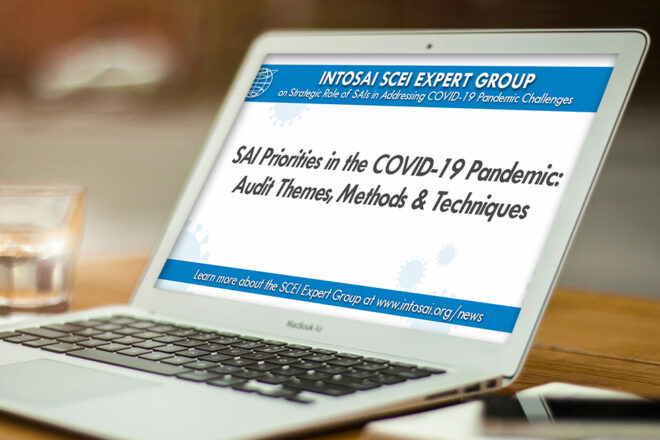 The International Organization of Supreme Audit Institutions (INTOSAI) Supervisory Committee on Emerging Issues (SCEI) established an Expert Group on the Strategic Role of Supreme Audit Institutions (SAIs) in Addressing Challenges Posed by the COVID-19 Pandemic as a long-term response to the crisis and continuation of the INTOSAI PFAC COVID-19 Initiative.
The Expert Group's main objectives include building INTOSAI strategic resilience; enhancing SAI impact and added value; and launching a long-term cooperation in auditing healthcare.
"The Expert Group is a focal point for anti-COVID practices, technologies and response methods for the entire auditing community…no one should be left behind," emphasized Aleksei Kudrin, Chairman of the Accounts Chamber of the Russian Federation and INTOSAI and SCEI Chair, in a video message delivered in June 2020.
Kudrin acknowledged the importance of sharing information among SAIs and harnessing experiences from the global accountability community to develop agile approaches to address similar challenges in the future. This focus prompted the Expert Group's first webinar held on June 22, 2020. The event, which highlighted "SAI Priorities in the COVID-19 Pandemic: Audit Themes, Methods and Techniques," included more than 200 delegates spanning the INTOSAI community—General Secretariat, Goal Chairs, Regions and SAIs—and featured discussions on several timely, relevant topics, such as:
Pandemic response oversight;
Public procurement and corruption risks;
Challenges faced at the peak of the coronavirus outbreak;
Foresight on audit work implications;
Adjustments to audit activities; and
Insight into how SAI roles will evolve in promoting good governance.
"In this demanding time, INTOSAI must support members as effectively as possible, and I am convinced the Expert Group will successfully support SAIs in addressing challenges caused by the COVID-19 Pandemic."—Dr. Margit Kraker, INTOSAI Secretary General and President of the Austrian Court of Audit.
Access the Expert Group webinar summary report here.