Autumn 2018
ECA Hosts 5th Global Audit Leadership Forum in Luxembourg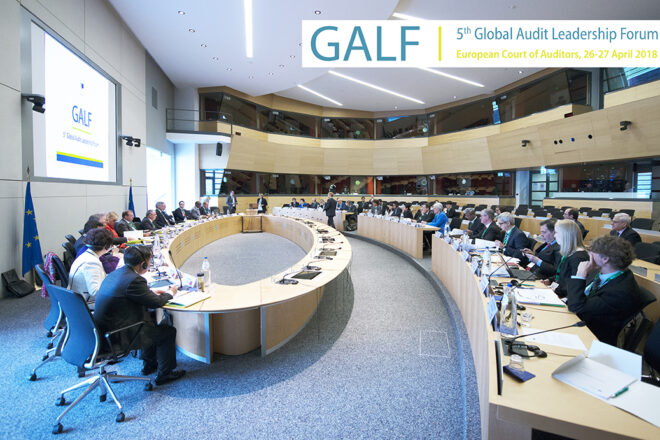 by the European Court of Auditors, Directorate of the Presidency
The European Court of Auditors (ECA) hosted the fifth annual meeting of the Global Audit Leadership Forum (GALF) in April 2018 at the ECA premises in Luxembourg. Attended by representatives of 20 Supreme Audit Institutions (SAIs) and the ECA, the two meeting themes were: "Carrying Out Performance Audits in a Political Context: What Are the Limitations?" and "Communicating audit Findings in a Digital World: Challenges and Opportunities."
Carrying Out Performance Audits in a Political Context: What are the Limitations?
SAI leaders discussed a broad range of internal and external limitations that can arise when carrying out performance audits. The lead question—whether there are any limitations due to the political context—led to manifold answers, given the represented audit institution and respective mandates, environments and political cultures.
While some participants said that SAIs should not enter the political arena and interfere with politics, others considered not doing so as failing to accomplish their missions. While the former group pinpointed the separation of powers and corresponding mandate limitations, the latter highlighted that audit topic selection could be considered a political decision. However, participants generally agreed that there are always political risks that require mitigation, be it through transparent, fact-based and objective reporting, a careful and sensible timing of publications (e.g. in times of elections) or recognition of socio-economic sensitivities and circumstances.
Today's world, with its volatility, uncertainty, complexity and ambiguity, presents new challenges for public administrations, private companies and citizens. While these aspects can be perceived as setting limits to SAI effectiveness, participants regarded them as challenges to be appropriately addressed. In this context, SAI leaders had an intensive discussion on how to:
Foster an innovation-friendly culture of "intelligent risk-taking" within SAIs and administration, focusing more on achieving best results and less on criticizing past shortcomings;
Open SAIs to a broad variety of professionals offering the best mix of capacities and experiences to flexibly react to, and proactively address, future challenges;
Grant SAI staff the freedom to think outside the box and develop innovative solutions; and
Implement and promote foresight activities aiming at preparing SAIs, legislators and administrations to properly react to emerging issues.
Further discussions touched upon (1) internal limitations resulting from factors, such as appointment procedures and tenures of SAI heads, conditions for heads of SAIs to take up new positions in the administration upon tenure conclusion, and senior management resistance to innovation and reform within the institution; and (2) external limitations, including budget risks, legal framework changes that could undermine institutional independence, selective or even polemic media coverage, and party alignments against certain audit topics and reports.
Though SAI experiences and responses to tackle these challenges varied, participants self-critically conceded that senior management must lead by example and live the principles heads of SAIs would like to see implemented in their institution.
Communicating Audit Findings in a Digital World: Challenges and Opportunities
SAI leaders discussed the apparent conflict between serious and professional messages and the inherent limitations of digital communication. It appeared that some SAIs are already adapting their communication strategies to this reality, producing the same message in different interconnected formats. Other SAIs have deliberately taken a more conservative approach to avoid undermining the factual message.
The importance of raising awareness via all types of media seemed crucial, as SAIs can gain respect and preserve reputations only if they manage to stay relevant and have a significant impact on stakeholders. To achieve this, SAIs are increasingly engaged in digital communication. In addition to websites and electronic audit reports, most SAIs are present on social media, sometimes even encouraging staff to be active on a voluntary basis. Some SAIs publish video messages from auditors, thus putting a face to the audit work; others have involved communication experts from the onset of the audit task. Additional dialogue addressed:
Challenges of hiring adequate human resources to ensure effective digital communication (data scientists, social media experts, digital communication specialists);
Balancing costs and benefits to a regular or permanent presence on social media;
Limitations imposed by law concerning the secrecy of data collected during audit work; and
The need to implement specific internal control systems to prevent and mitigate the inherent risks of being active on social media. Some SAIs reported on (negative) experiences with social media.
The discussion showed that SAIs have diverse practices regarding digital environment communications, but SAI leaders are very much aware that digital communication—and social media in particular—is a reality that cannot be ignored. Despite certain risks, digital communication should not be seen as a threat, but rather as an opportunity for SAIs to be more effective in stakeholder engagement.
The GALF meeting was the theme of the ECA Journal's May 2018 edition, which can be accessed online at https://www.eca.europa.eu/Lists/ECADocuments/JOURNAL18_05/JOURNAL18_05.pdf.