News in Brief
CAG India Hosts Commonwealth AG Conference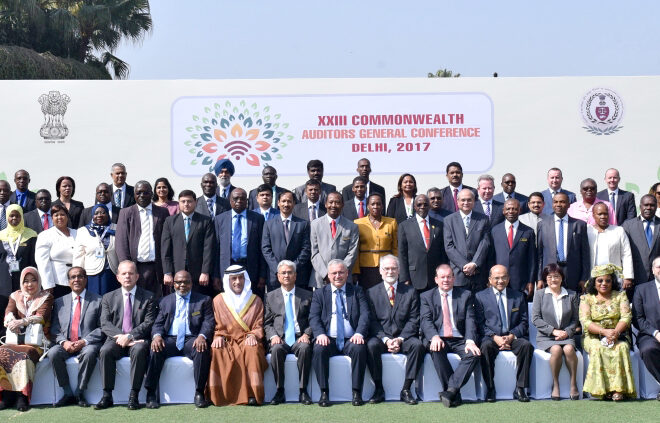 The Comptroller and Auditor General of India hosted the XXIII Commonwealth Auditors General Conference (CAGC) in New Delhi, India, March 21-23, 2017. Seventy-four delegates from 36 countries, including 24 heads of Supreme Audit Institutions (SAIs), attended the three-day event.
Discussions centered on the main theme, "Fostering Partnerships for Capacity Development in Public Audit," within the context of two sub-themes, "Leveraging Technology in Public Audit," and "Environment Audit: A Commonwealth Perspective." Sub-theme discussions were chaired by Dr. Mussa Juma Assad, Controller and Auditor General of Tanzania, and Mr. Michael Ferguson, Auditor General of Canada, respectively, and included keynote addresses from the SAIs of South Africa and Australia.
The SAIs of the Cayman Islands, Kenya, Malaysia, Pakistan and the United Kingdom presented country papers on experiences using information technology in audits, while the SAIs of Bangladesh, Cameroon, Malaysia, Pakistan and Zambia shared personal insights into environmental audits. SAI India delivered video presentations on data analytics and environmental audits based on the SAI's knowledge and practices.
Since most Commonwealth countries follow similar governance structures and share a common working language, discussions on the two sub-themes reinforced the need to build partnerships for collective benefit. With many nations having basic capacities to undertake audits of information systems, the conference afforded opportunities for SAIs to share expertise in all aspects of auditing technology, including the application of data analytics in performance and attest audits.
During the event, it was noted that all Commonwealth countries were environmentally vulnerable. With the decreased capability and preparedness of some nations to address and mitigate environmental effects, it was suggested that highlighting risks associated with ineffective approaches was crucial. Additionally, adopting the Sustainable Development Goals (SDGs) is key and requires mainstreaming of environmental issues in all audit types. A primary concern noted in auditing environmental matters is the difficulty in evaluating long term governmental interventions and programs impact, particularly when performance measures are lacking. A shortage of experienced and trained staff was perceived as another challenge that many SAIs face.
The conference also observed a healthy appetite within the Commonwealth SAI community for cooperative audits, which provide tremendous value, especially between SAIs of contiguous countries in areas of high, regional concern.
Future beneficial initiatives deemed worthy by event participants included:
Establishing a mechanism to communicate the conference outcomes to the International Organization of Supreme Audit Institutions (INTOSAI) and regional organizations, especially the relevant working groups on IT, Big Data and Environmental Audit; and
Continuing to work with the Commonwealth Secretariat to foster cooperation with key Commonwealth organizations, which may include engagement with the Commonwealth Association of Public Accounts Committee (CAPAC) and other parliamentary groups.
The XXIV Commonwealth Auditors General Conference will be hosted by the SAI of Fiji in 2020.