AFROSAI
AFROSAI Hosts Illicit Financial Flow Conference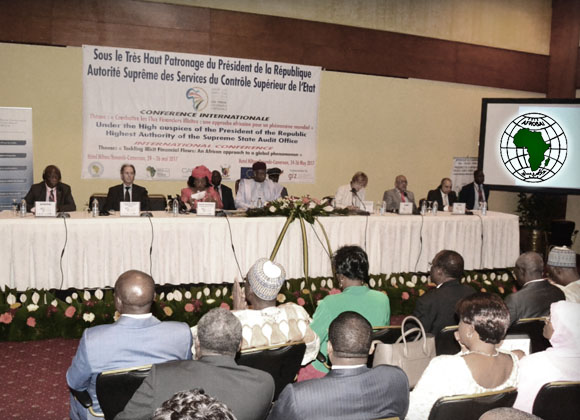 The Secretary General of the African Organization of Supreme Audit Institutions (AFROSAI), in partnership with the African Tax Administration Forum (ATAF), African Organization of Public Accounts Committee (AFROPAC) and Collaborative Africa Budget Reform Initiative (CABRI), organized an international conference on Illicit Financial Flows May 24-26, 2017, in Yaoundé, Cameroon.
Under the theme, "Tackling Illicit Financial Flows (IFF): An African Approach to a Global Phenomenon," the conference enabled participants to develop a common understanding and gain awareness on organizational experiences with illicit financial flows.
The event fostered an open exchange of ideas and specifically allowed attendees to:
Develop a shared and more nuanced understanding of IFF challenges, including the different pillars and levels;
Reaffirm a commitment to Good Financial Governance (GFG) by underscoring the importance of cooperation (GFG approach) and ensuring network sustainability; and
Present tools utilized to tackle IFF.
Throughout the three-day conference, 254 delegates representing Supreme Audit Institutions (SAIs), tax officials, parliamentarians, finance ministries and international, non-governmental and civil society organizations came together to participate in presentations, discussions and workshops on IFF's extent, complexity and negative impact; debate on measures to fight the problem; and to show continued commitment to the ongoing effort by signing the Conference Declaration, "Curbing Illicit Financial Flows Through Good Financial Governance: United Against Illicit Financial Flows."
For additional information, email sg_afrosai@afrosai.org or hassan@crefiaf.org. You can also visit AFROSAI's website at www.afrosai.org to learn more.
The conference partner organizations were founded to optimize fiscal resource mobilization, improve fiscal transparency, strengthen external auditing of public finances, and develop public finance parliamentary oversight. Their activities are coordinated through the Deutsche Gesellschaft für Internationale Zusammenarbeit (GIZ) within the framework of the Good Financial Governance in Africa Program established in 2013 and are financed by the European Union and German government.