Editorial
Addressing COVID-19 Implications Nationally, Globally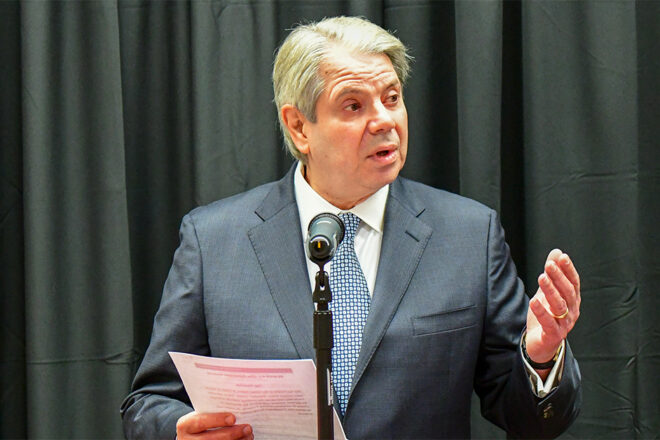 by Gene L. Dodaro, U.S. Comptroller General and Head of the U.S. Government Accountability Office
The COVID-19 Pandemic has posed significant challenges to public health, the global economy, our governments, Supreme Audit Institutions (SAIs), and the citizens we serve.
As an independent, non-partisan, objective agency, the U.S. Government Accountability Office (GAO) provides oversight of the federal response to the COVID-19 Pandemic. GAO has a history of examining pandemic issues and associated implications. The $2.6 trillion coronavirus response legislation, known as the CARES Act, requires GAO to continually monitor and report on the nation's preparedness for, response to, and recovery from, the pandemic.
GAO is examining the impact of COVID-19 on public health, homeland security, and the economy and is looking at such areas as virus testing, managing the national stockpile and distribution of equipment, personal protective equipment availability, infection control at nursing homes, Defense Production Act issues, student loan relief efforts, unemployment benefits, paycheck protection programs, and the use of funds by various agencies.
In my role as head of GAO, I have ensured the agency's seamless transition to a nearly 100 percent telework posture to continue serving the U.S. Congress and the American people while upholding our core values of Accountability, Integrity, and Reliability.
While GAO telework policies and information technology infrastructure allow us to complete our mission and adhere to current public health recommendations aimed at slowing the spread of the virus, through interactions with international counterparts, I understand that some SAIs do not have the resources or the infrastructure to similarly transition and operate in this environment.
In light of these circumstances, the International Organization of Supreme Audit Institutions (INTOSAI), under the auspices of the Policy, Finance, and Administration Committee (PFAC), established an informal, short-term initiative (Initiative) led by GAO in cooperation with the PFAC Chair, Dr. Hussam Alangari, President of Saudi Arabia's General Auditing Bureau. The Initiative is:
Helping maintain operational continuity across INTOSAI and individual SAIs; and
Sharing audit-related information and training tools.
The Initiative is also developing a lessons learned document for external partners, such as the United Nations and World Health Organization, that draws upon collective experiences and focuses specifically on curbing the disease's spread. GAO has extensive knowledge and experience from its previous responses to national and global emergencies that have informed its current actions and ability to address this global pandemic, further underscoring the importance and value of a lessons learned document for SAIs.
SAIs will be of even greater importance and value now and in the future, particularly in auditing national responses to the COVID-19 Pandemic. The Initiative plays an important role in helping SAIs around the world continue to serve citizens and governments while sharing and learning from best practices.
The Initiative has already launched a dedicated website—intosaicovid19.org—providing relevant, timely resources to include existing International Standards of Supreme Audit Institutions on disaster-related audits and valuable links to pandemic-related information and training tools.
Along with the invaluable contributions from SAIs and INTOSAI partners, the Initiative is leveraging GAO leadership roles within INTOSAI as Chair of the INTOSAI Journal, Chair of the Working Group on Financial Modernization and Regulatory Reform (FMRR), Vice Chair of the INTOSAI-Donor Cooperation, and Vice Chair of the Working Groups on Big Data and Impact of Science and Technology on Auditing.
I am particularly concerned about the pandemic implications on financial markets and global economies and convened a virtual FMRR meeting in May to focus specifically on these issues. Furthermore, the INTOSAI Journal remains committed to ensuring INTOSAI members and the broader accountability community remain connected during these challenging circumstances.
The Initiative will shortly transition to the longer-term effort, Expert Group on the Strategic Role of SAIs in Addressing Challenges Caused by the COVID-19 Pandemic, established by the Accounts Chamber of the Russian Federation as Chair of INTOSAI's Supervisory Committee on Emerging Issues (SCEI). As SCEI Vice Chair, GAO aims for continued involvement and input.
I recognize all SAIs have had to adapt to evolving global and national needs and priorities. Though deeply saddened by the impact of the pandemic, I am optimistic we will find ways to maximize our value to our governments and our citizens as we pursue our shared interest in enhanced government accountability.